Reconstruction in operation of food service
industry object as freestanding building type.


Concept development for electric, heating,
sanitary and ventilation technology.


Consultation of the building contractor for
the possibilities of implementation with preliminary
inspection report as well as invitation to tender,
planning and site supervision.


Realization of the complete HOAI phase from 1-9.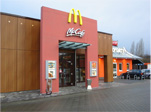 Mc Donald`s Germany
(a variety of projects)